Recently in a tabloid there was an article about the status of Kago. My brother offered to translate it for me, so I figured I might as well post it here. The point of view it's from makes it sound kinda like a stalker...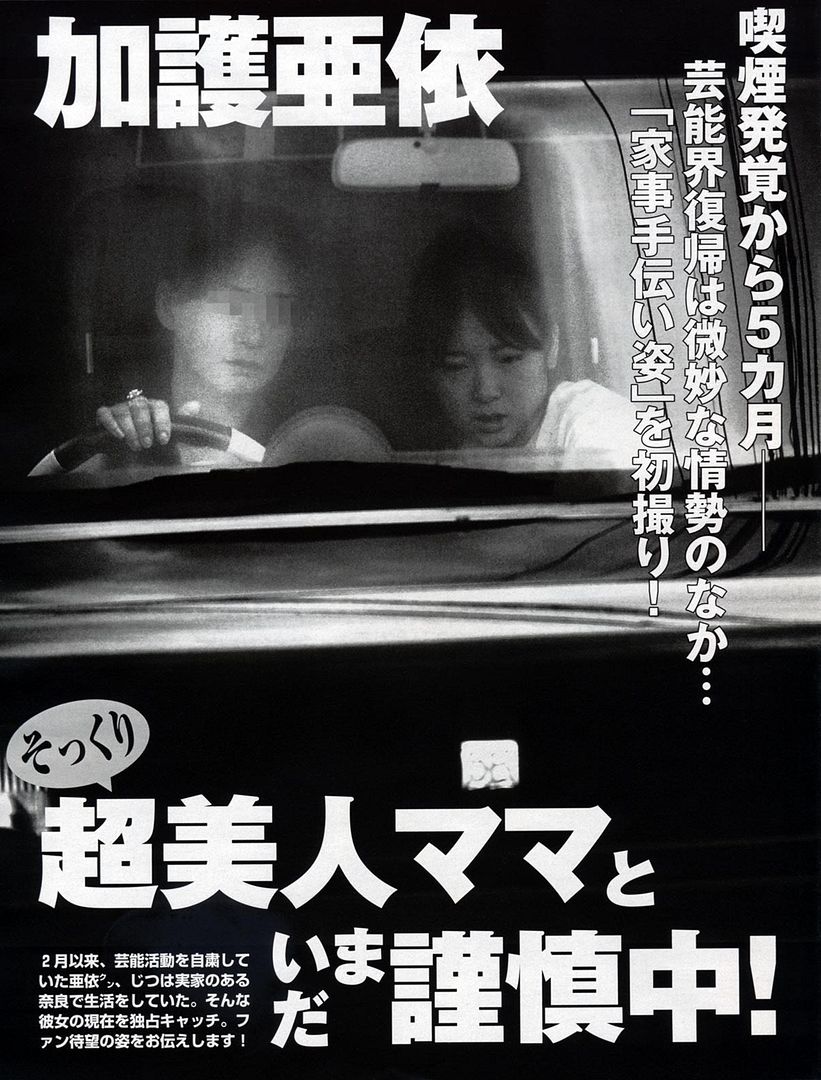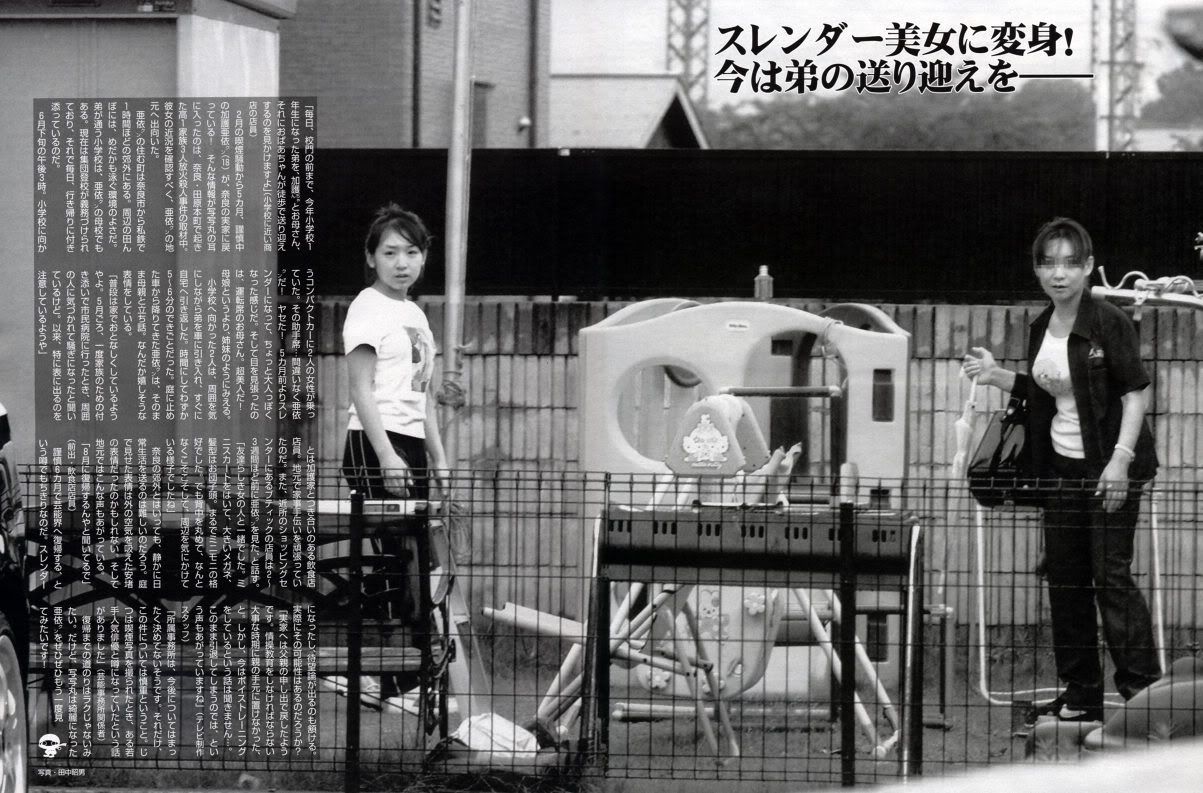 Kago Ai

Five months after being found smoking-
In the midst of preparing for an awkward return to the entertainment world
The first photographs of her helping about the house!


(Bubble text: The look-alike)
With the super pretty mom
and still on best behavior!

Ai, on probation from the world of entertainment since February, has in fact been living in Nara where her family is.
We will exclusively catch her current situation. We will humbly tell what the fans have been yearning to know: how she's doing.


(Transformed into a slender beauty!
Now dropping of her little brother)

Everyday, in front of the gate of the school, I see Kago-chan,
her mother, and grandmother send off her little brother (who just became
a first grader this year) by foot. (Clerk at a shop nearby the elementary school)

Five months after the smoking disturbance, the on probation Kago Ai (18) has
remained in Nara! Shashamaru (I'm guessing this is the tabloid's name...?) found out
about this when we were covering the arson attempt by a high schooler that killed a family of three
in Dawara Honmachi. Feeling it our responsibility to check on her status, we went to her neighborhood.

The town that Ai lives in is a suburb of Nara, about one hour by train. Medaka even swim
in the healthy neighboring fields. The school that her little brother attends is in fact
Ai's alma mater as well. Momentarily, faced with taking the children to school by groups, she
accompanies them to and from school everyday.

Late June, 3 PM. Two women are seen riding in a compact car heading for the elementary school.
And sitting in the passenger seat is... none other than Ai! She lost weight! A great deal
more slender than five months earlier, she now has a more adult atmosphere about her.
And next to amaze us, the person sitting in the driver's seat: her mother. A real beauty!

Minding their environment, the two quickly picked up the little brother and returned home.
In terms of time, it was a happening of only five or six minutes. Ai, getting out of the car, remained
standing and talking to her mother in the yard. She has somewhat of happy expression on her face.

"Usually I try to stay at home and keep quiet. Sometime in May, while going with my family
to the city hospital, I heard that I was found out by the neighborhood and it caused quite a rucus (SP?)...
but since then, I've been trying to not go out into public much."

... says an employee at a restaurant who has spoken with Ai. She's been working hard
helping about the house. Also, an employee at a local shopping center boutique
said she had seen Ai about two or three weeks earlier.

"She was with what looked like her friend, another girl. Wearing a skirt with big glasses
and her hair up in odango, she looked like she popped right out of Minimoni. But she
was kinda hunched over a little and seemed to be paying attention to her surroundings."

Even if it is a suburb of Nara, it must be hard to lead a normal life. The expression
she showed us in the yard may have been that of the solace of merely breathing the
air outside. Now there's even talk like the following from the neighborhood:

"I hear she'll be back in August." (The afforementioned restaurant employee)

After being on probation for six months, her return to the entertainment world is
the talk of the town. She's thinner, and her long awaited appearance may prove positive for
her popularity. Could that truly be possible?

"I hear that she went back home at the request of her father. Apparently because
they felt that she wasn't with her parents during a time of a necessary time of
cultivation of aesthetic sentiments. But I haven't been hearing that she's been
doing any type of voice training... Some have even been saying she might just retire
like that." (TV Production Staff)

"I hear that they haven't decide what will happen hereafter. Just that this is
quite a serious case. In fact, when the pictures of her smoking were taken,
it was also rumored that she was going with a certain young popular actor..."
(Entertainment Office Affiliate)

It doesn't look like the road to her return will be an easy one. But we here at
Shashamaru sure would like to see the new prettier Ai one more time!